Please Click the "Book Now!" Button Above For The Most
Up To Date Tour Availability Information, Tours do sell out so please click to check ahead of time!
Walk in welcome but advance purchase recommended to guarantee your time slot.
NOVEMBER TO APRIL 30
Open 10:30am-2:30pm
Tours: 11, 12, 1 & 2pm
MAY HOURS
Open Monday through Friday with reservations from 2pm to 4pm (Please do not arrive early as we have school tours in the AM);
Open Saturday and Sunday, reservation optional, from 1030am-230pm, tours at 11, 12, 1 & 2pm.
JUNE JULY AUGUST
Open 7 days a week, 930am to 5pm, tours at 10, 11, 12, 1, 2, 3 & 4pm
subject to availability
SEPTEMBER OCTOBER
Open 7 days a week
930am to 4pm
Tours at 10, 11, 12, 1, 2 & 3pm
Subject to availability
All Times Weather Permitting
Click here for more information
Phone:
(720)548-0343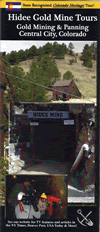 Click the Brochure for Detailed View
The Lodge Casino WEBCAM, Downtown Black Hawk
(7 minutes from the Hidee Mine)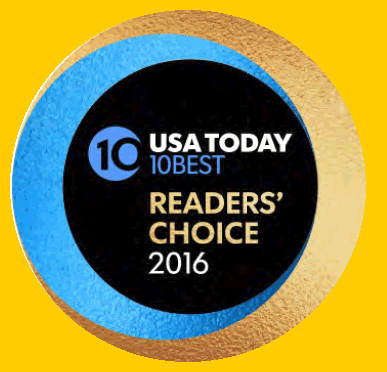 Congratulations! The Hidee Gold Mine has BEEN PICKED in the 10Best Readers' Choice travel award contest!
USA Today 10Best's expert panel selected the Hidee Gold Mine as the #1 Underground Attraction in Colorado!
www.HIDEEGOLDMINE.com
Home Page
Thank you for your interest! The miners and supporters of the Hidee Gold Mine have been working since 1988 to bring to life the rich history of mining near Central City & Black Hawk, Colorado. We concentrate on local geology, history, and explain mining methods both past and present. Tours include a stop at a real 5 foot wide vertical gold vein where you can use a single jack hammer and chisel(provided) to chip a gold ore sample loose, yours to keep!
Mining for Gold! 15sec
MeTV 8:49min and worth it!
Featured
News & Reviews
"It was one of the most memorable activities from our simple vacation. Upon leaving the mine, we took a few photos together and with John. When we walked away and got back in the car, none of us could shut up about how awesome this was. Mining for gold with a veteran miner equals an experience none of us will soon forget." -- Mel, Adventures of Mel, March 2015
5280 "The Denver Magazine" "taking your child's learning outside of the classroom—and into the world." in "Outward Bound"
The History Channel on 10 Things You Don't Know About "The Gold Rush" with Henry Rollins" and United STATS of America "Money Talks"
The New York Times in "A Rockies Casino Town Preps for the Big Time"
Discovery, The Science Channel on How the Earth Works
The Denver Post in "Outside Guide: Colorado Mine tours", and the amazing survival story: "Five Days, then Rescue", This was covered worldwide, an amazing story.
USA Today in "Sightseeing in Central City and Black Hawk"
Major League Baseball (MLB.com) in Colorado Rockies & Mapquest 'Keys to the City'
CBS TV on "Colorado Getaways"
FOX TV WB2 on "The Morning News" featured by Chris Parente and then Dan Daru
The Weekly Register-Call in "From Mining to Maserati's"
Inside Edition about the miraculous survival story at the Hidee Mine, "Woman Survives 5 Days After Crash"
AAA Companion as a 'Featured Place' to visit!
And MORE!
Mine Tours:
Adult 15 & up: $23.95
Child 4 - 14: $14.95
Gold Panning (w/lesson):
$5 with tour
$12 with out tour
*Keep What You Find, and you will find something. We add gold and gem ore to aid in teaching your lesson.

Children 3 & under are free but must be accompanied by an adult for their safety
Educational discounts to all recognized school / university groups
Group reservations
available all week with minimum $160 purchase
Reservations must be made 7 days in advance for group and educational discounts to apply (thanks, this gives us time to assemble extra guides)
To visit outside of these hours please call or email for tour availability
MAILING ADDRESS:
PO Box 1043
Central City, CO 80427
PHYSICAL ADDRESS:
MM 6.3 Central City Parkway
Central City, CO 80427
PHONE: (720) 548-0343
E-MAIL: info@hideegoldmine.com